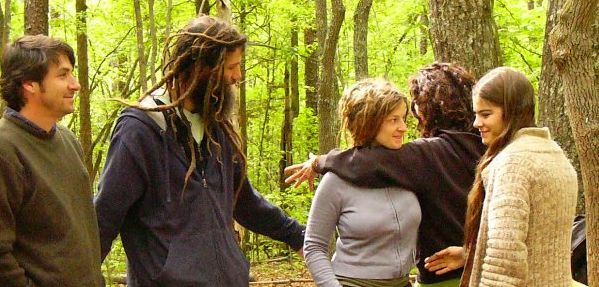 Frank Cook's Education and Teaching Career
1985: Bachelor of Science Degrees with honors in Zoology and Computer Science from Duke University, Durham, NC.
1988–1992: Creative writing teacher at Durham Technical College and a manager at the Durham Food Co-op, NC.
1995: Graduated from the Northeast School of Botanical Medicine as a Clinical Herbalist, Ithaca, NY.
1997: Cook traveled throughout India and Nepal for nine months. Studied Ayurveda and other forms of traditional healing. Encountered hundreds of healing plants. Self-published an account of experiences gained there called Plants and Healers of India and Nepal.
1999: Cook traveled about Ecuador and Peru for three months. Studied with shamans and other healers. Wrote a cross-cultural paper at Jutan Sacha Biological Station, Bilsa, Ecuador [http://www.jatunsacha.org/ingles/portada.php?id=4 ] comparing plant genera used there and abroad. Self-published an extensive report on what he learned on that journey called Plants and Healers of Peru.
Late 1990s until his death, Cook studied and taught with a wide range of well-known and respected plant teachers including: Dr. James Duke, 7Song, Doug Elliott, Alan Muskat, Juliet Blankespoor, Greenlight, Chuck Marsh, Daniel Nicholson, and John Olmstead. He also taught at the Appalachia School of Holistic Herbalism in Asheville, NC.
2001: Cook walked for a month from the Pamlico Sound at the NC coast, west to Max Patch along the border of Tennessee. This walk was a rite of passage, as he made small fires each day and ate what he could from the land, really learning to appreciate wild teas and nibbling.
2002: Over three weeks Cook and a companion walked across California from the Pacific Ocean to Lake Tahoe–eating off the land and sleeping under the stars. Cook developed further his skills of living on the earth and connecting more deeply with this unique flora.
2002: Cook returned to Peru to do more research on the flora and healing modalities. A small group accompanied him and was able to relive many of his memorable experiences from his previous trip.
2002–2003: For five months Cook journeyed through eight countries in southern Africa learning plant stories and healing traditions and self-published Plants and Healers of Southern Africa.
2004: Cook led a small group of intrepid travelers focused on the plants and healers of Kerala, India, collecting knowledge and experiences in this diverse state of India.
2005–2009: Cook was one of the teachers on fascinating journeys from the high mountains of Costa Rica down to the Pacific Ocean. The travelers experienced together the flora of this country as well as the various healing ways and thrival living skills. This event was coordinated by the Diamante Verde Sanctuary.
2005–2009: In both autumn and spring time, Cook lead three-day walks along the Appalachian Trail with groups to learn wild edibles and medicine, sponsored by Wild Roots.
2005: Cook led a group through Peru for a month to study plants and healers of the Peruvian jungle and Andes mountains.
2006: Cook led a group for a month around southern Africa visiting the highlights from his 2003 journey. He then spent another month researching new plants and healers.
2006: During this three-week trip to Peru, Cook facilitated a trip by a large group to the Amazon Basin. They were accompanied by the world-renowned herbal researcher and author, 77-year-old James Duke.
2007: Cook traveled over two months around Australia and New Zealand. On this trip he felt a shift to global understanding as he met the flora of these two very different countries. He gathered data for the fourth plants and healers book, which was not completed before his passing.
2007: Cook became certified as a Permaculture Designer in Virginia with Peter Bane. After 10 years of working with permaculture principles he felt it was time to receive accreditation for sharing that knowledge.
2008: Cook received his Masters of Science in Holistic Science at Schumacher College, Dartington, Devonshire, England and self-published his thesis called, Emerging Planetary Medicine.