Recently i returned to Costa Rica for the first couple weeks of March. The main focus of the trip was to help bring to completion a book on the Plants and Healers of Costa Rica which was started over a decade ago by Tenasi Rama, Frank Cook and Tin Contreras.
However, first i headed north from San Jose to meet up with United Plant Savers executive director Susan Leopold and the American Herbalists Guild executive director Mimi Hernandez and her partner. We stayed at one of my favorite Hot Springs ever the Termales del Bosque before heading the next day to Finca Luna Nueva. At Finca Luna Nueva we happened to bump into Alan Muskat and his partner Greer. Alan is fellow forager and my boss through No Taste Like Home back un north in Asheville, NC! We had a great walk around the property with the owner Tom Newmark and his compatriot and farm manager Stephen Ferrell among others. We headed back later that day to post up in San Jose for Susan to be close to the airport to catch her flight in the morning and for me to be able to conversely scoop up dear friend Dr. Jim Veteto.
Jim accompanied me as it was his spring break from Western Carolina University and his birthday to boot. Jim is a great writer as well as ecological anthropologist and has agreed to help consult on our book project. We initially travelled with Tenasi and his family and stayed in a friend's home outside Dominical. We started the morning the next day with an awesome fruit tasting including fresh Cashew (Anacardium occidentale), Star Apple (Chrysophyllum cainito), Sapodilla (Manilkara zapota) and various Passion Fruits (Passiflora spp.). One must be VERY CAREFUL with fresh Cashew as it is related to Poison Ivy (Toxicodendron radicans) and some parts can be similarly irritating!
Later that day we travelled up to the Diamante Verde Sanctuary which features numerous caves and waterfalls including the largest waterfall in Costa Rica at over 600 ft.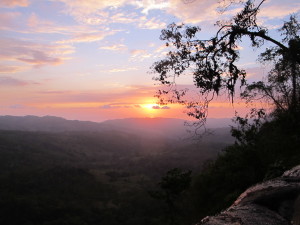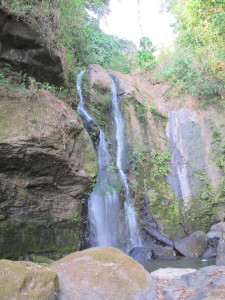 The hike to the sanctuary 10 years ago was one of the hardest hikes i have ever done. Granted it was rather wet and i was carrying over 60 pounds of gear straight up hill. The hike this time was a much easier experience as it was the dry season and we had a horse to carry a lot of our stuff. This is truly one of the most magical places i have ever been in my life and i am ever so grateful for the chance to return. The sanctuary features a garden with lots of different fruit trees such as Bananas (Musa sp.),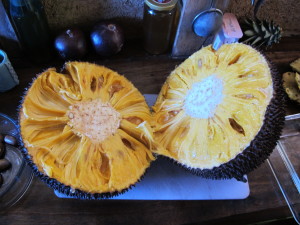 Jackfruit (Artocarpus heterophyllus), Durian (Durio zebethinus), Sapotes, and Star Apples as well as lots of cool vegetables and ornamentals as well. Tenasi and his partner Danita named their little baby girl after Durian! The family that stewards the land at Diamante still facilitate tours up there through their company Pacific Journeys if you are interested. The following day we headed back down to the house in Dominical.
From our perch in Dominical we headed up to Manuel Antonio National Park. i have never seen so many exotic animals in a wild setting in such a small area and space of time. We witnessed various lizards, sloths, peccaries, deer, and monkeys.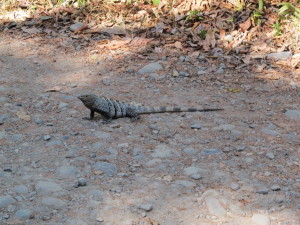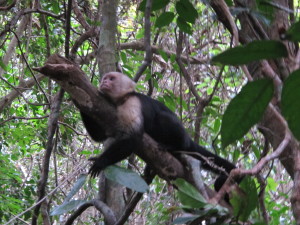 Unfortunately it was hard to get good pictures of many of these critters. After we finished with the park experience we had dinner and then headed to the community where our friend Matthew Human lives outside Orotina.