Since Frank Cook's passing, some of the things that have come to pass with the organizational support of Plants and Healers International (PHI) are the rebuilding of the Plants and Healers website and the making of a documentary film of Frank's life. We have systematically sorted through Frank's works for a future library and resource center, edited his thesis, Emerging Planetary Medicine, created memorial T-shirts, and planted trees and dedicated special spaces in nature in his memory. One member of PHI's Board of Directors, interested in continuing Frank's life work, has developed a Botany Every Day online course. Multiple gatherings and walks have been held to propagate the seeds that Frank planted in so many of us.
The biggest new PHI initiative is to establish a world map with links to Botanical Gardens, Schools of ethnobotanical learning, contacts to individual plant teachers and plant lists from Frank's travels. We are calling it the Plant Allies Network (PAN). This is a possible place for a grant position and/or interns and apprenticeships. We especially need an IT person with web skills who can help code our vision into reality. Please contact marc@plantsandhealers.org if you are interested in getting involved.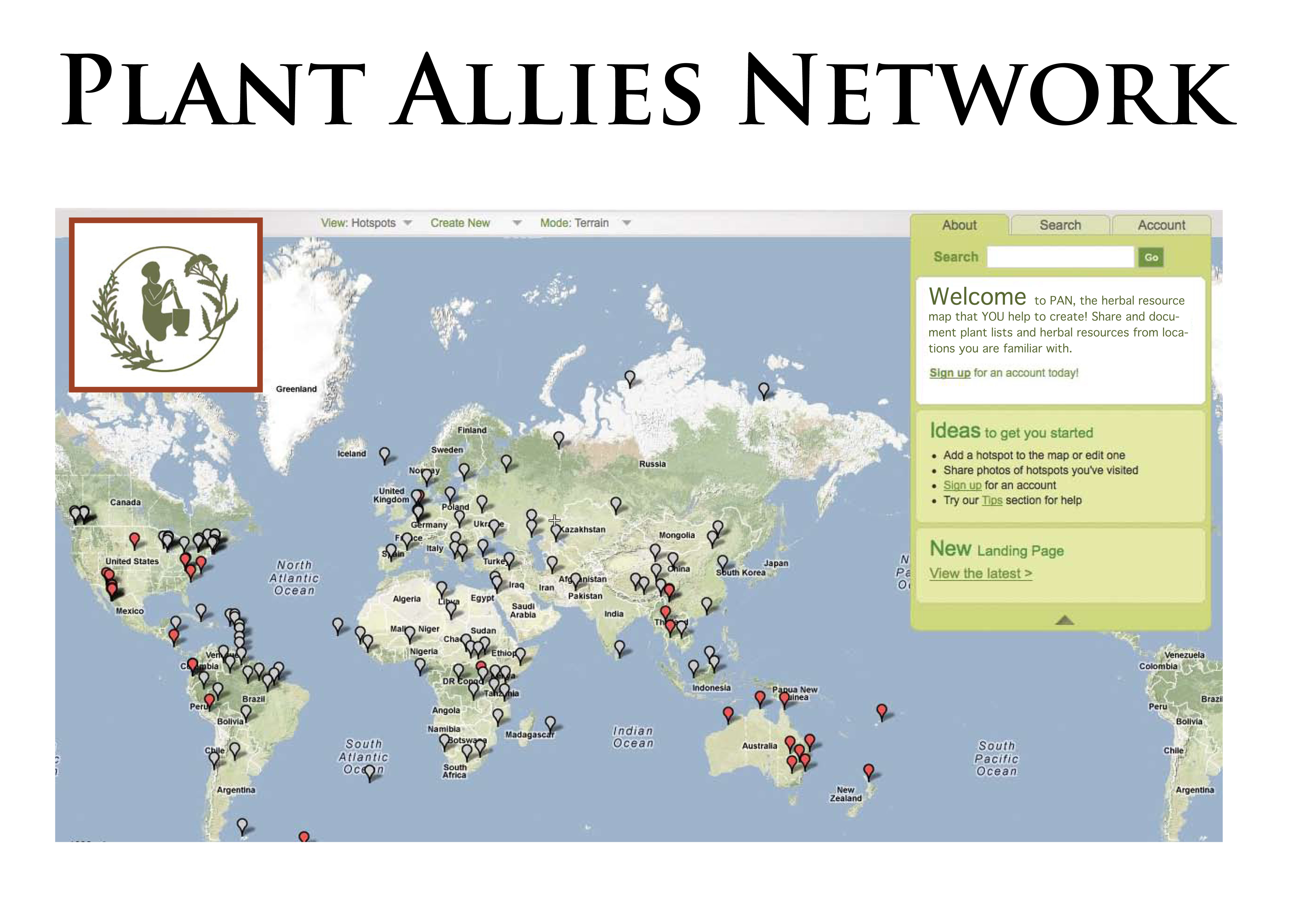 Mendo Tahoe Conservancy Partnership for a Tran-California Trail
Progress June 2013
John Olmsted had a vision.  Well… he had a quite a few visions!!  But one of them was the dream of a "Green Corridor" that would connect the Pacific Coast with the Sierra Mountains.  He called it the "String of Pearls,"  evoking the image of a necklace in which the pearls and pendants, are the parks and wild lands, and the string is the 300 mile trail that threads them all together.  In 2002, inspired by this vision, Frank Cook set out to follow in John's footsteps.  Mile by mile, he crossed California, from Jug Handle State Park in Mendocino, to the shores of Lake Tahoe on the border of Nevada.  His journals from those days are filled with the names of the plants he met, the fruits he ate, the sights he saw, and the feelings that filled him.  His writings about the glories and challenges of the journey gives one the sense that it must have been a sort of pilgrimage for Frank and his companions that joined him periodically along the way.  Penetrating the deep shade of Jackson State Forest's redwoods, crossing rushing waters through the Cache Creek Wilderness Area, climbing the arduous trail to the summit of Mount Judah… each day a new experience, each day a new look into the majesty of nature and the beauty of this planet!
Inspired by John Olmsted's vision, and Frank Cook's experiences, members of The Mendocino-Tahoe Conservancy and Plants and Healers International have been working on a more developed plan for the Trans-California Trail.  Maps have been unrolled and routes have been drawn.  Paths have been blazed and crossings made (Stephen Hein and T Turtlington have joined the list of folks that have completed the 300 mile journey.)  Land owners are being contacted, right of way's secured, new parcels have been deeded, and other non-profit organizations are pulling up chairs to the table.  Much work is involved, and volunteers are emerging, the public is being engaged, and a dialogue about the future of this "living corridor" is taking shape as, like solemn pilgrim's, we trod ever forward.
What's Next…
Our current excitement is regarding the fact that The Bear Yuba Land Trust has acquired a 2700 acre piece of land known as Rice's Crossing in the Yuba River watershed of Nevada County (in the Gold Hills of the Sierras.)  This is the equivalent of a giant emerald medallion in John's "Green Necklace."  All along we have been facing an issue of the Trail needing to go many miles out of it's way to by pass Lake Englebright and it's dam.  But the potential of a bridge at Rice's Crossing coupled with what Stephen and Turtle found from their discovery last year, that the remains of the Excelsior Ditch (a one hundred year old aqueduct dug into the hill side 1400 feet above the Yuba River!) if cleared and maintained could feasibly extend the Independence Trail clear down to Bridgeport!  (The two explorers huffed, puffed, and crawled the 10 plus miles, bushwhacking through bramble, deer brush, and poison oak, and they report that "it can be done!")
The next major outing looks like it will be a 40 mile overnight journey from the west bank of the Yuba River's Middle Fork at Rice's Crossing to Grey Lodge Wildlife Area in the Central Valley on the North end of the Sutter Buttes.  This trek will likely happen in September.  If you are interested in being involved in this or other scouting missions, would like to volunteer with either of these groups regarding the trail project, or would like more information, contact T. Turtlington at turtle343@gmail.com to  further information.  Writings on the Trans-California Trail and other pilgrimages , as well as a gallery of pictures from "the Green Path" can be found at The Pilgrim's Way
Future Projects
Many future projects are either brewing or seen in the crystal ball, such as:
A cookbook with Frankie recipes and food for thought
A more interactive website
The publishing of Frank's novels and travel accounts
Memorial sites, such as gardens
The continuation of annual Green Path gatherings to pollinate Frank's vision
Scholarship/seed money for like-minded efforts
Plants and Healers Facebook account for extending social networking
Facilitating annual trips to indigenous healers around the globe
Want to get involved?
If you have any ideas or suggestions for these projects or others, please send an email to info@plantsandhealers.org. PHI is an all-volunteer organization. If you're interested in working on an activity that furthers the mission of PHI, and have the time and energy to give, please contact us.
 Support PHI
Donations to Plants and Healers International are tax deductible.
Plant Allies Handbook
In the late 1990s and early 2000 Frank was focused on creating a "Plant Allies Handbook." He wrote a 61-page rough draft for it and collected personal stories about people-plant relationships from many people. He intended to collect more and compile these into an inspiring book for people to connect with the plants growing near them. This is a vision that is yet to be fulfilled. Are you interested in carrying it to the next level? Let us know.